Welcome to Kanesville Used Records and more!!!
Midwests Largest Record Store
From THE CITY WEEKLY, 11/30-12/06 2005

Stepping into Tim Behrens' Kanesville Used Records store in Council Bluffs is a little overwhelming at first – the walls are plastered with posters, T-shirts and comics. After your eyes adjust you see that the main floor is full of endless amounts of racks stuffed with LPs.

But a customer asks about a particular record, and Behrens immediately points him in the right direction. Another calls and Behrens picks out their request within twenty seconds.

Unorganized, it is not.

It is hard to imagine a store containing three-fourths of a million of anything. Much less keep track of and organize that much inventory.

But Behrens' does, with around 750,000 rare and out of print records in its store, plus a ton – and when I say a ton, I mean tens of thousands – of other collectibles such as comics, old magazines and movies.

"It's probably the largest collection of records in the Midwest," owner Tim Behrens said. "We've had people sifting through the collection from open to close, for an entire week."

Behrens opened his store in 1978 and moved to his current location in 1985. The current building has a main floor full of LPs and 45s, plus an upstairs and downstairs full of more records and 78s.

That's 10,000 square ft. of collectibles – but don't be intimidated.

Despite the insanely large collection of vinyl in his store, it is incredibly well organized alphabetically.

"We just have more volume than other places," Behrens said. "Therefore we have more to choose from. We have a full time employee on hand to organize it."

Kanesville also sells cassette tapes, 8-track tapes, VHS movies and DVDs.
Listing Site Updates
Under one of these subheadings, it's a good idea to list recent updates to my site so that visitors, especially return visitors, can check out the new stuff first. For example, I could list the date and a brief description of the update.

I could also list updated news about my site's topic. For example, if my site were about a particular sport, I'd could discuss the outcome of a recent competition.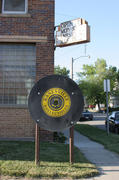 Notifying Visitors of Site Enhancements
Another idea for my home page's text is notifying visitors about the enhancements I put on my site. For example, I want visitors to sign my guestbook or fill out my survey Form E-mailer to answer questions about my site, my business, or my site's topic.
We Pay Cash For Your Merchandise!
I might not want a large amount of text on my home page if I want to guide visitors toward my other pages. Instead of text, I can add others' buttons to this first page, and I'll be rewarded for people who click on the buttons. For example, if a visitor signs up for a Visa using the NextCard button on my site, I earn at least $20!
Even if I don't put much text on my home page, it's a good idea to include hidden tools that will help me promote my site, so people other than my friends and family actually see it. For example, I could add meta tags, which are hidden codes that allow search engines to find my site. I could also install stats and a counter so I know how many people are visiting. If not many are visiting, submitting my site to search engines will guide more traffic to my site.